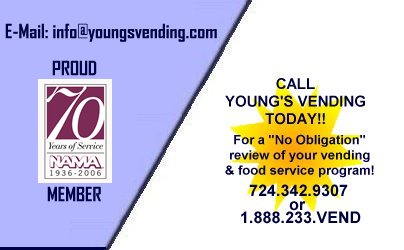 Providing Quality Vending Services to Your Business.....

From product selection to machine maintenance, Young's Vending puts customer needs first—and preserves their time for other important activities.


Our vending services include:

Our extensive menu options—from dinners to desserts—give our customers a restaurant on the premises.

Only quality products are purchased and staff members routinely ensure product selection and freshness.

Great taste is important to Young's Vending and our forward-thinking management enlisted the services of a caterer; all our fresh sandwiches and dinners are provided by DiLorenzo's Deli, Bakery and Catering located in Sharpsville, PA.

Also available is a broad selection of frozen breakfast, lunch and dinner items, along with a multitude of snack options, including healthy food selections.

Beverages have been a long-time staple to the vending industry. At Young's Vending, customers can select of variety of ice-cold name brand pops, sport drinks, juices, and water, along with milk provided by Dean Dairy.
There is no shortage of hot beverages either. Coffee, tea, hot chocolate, cappuccino and soups can be available with the touch of a button.
If you prefer, Young's Vending offers a full-service Office Coffee & Hot Beverage Service (OCS) that is the best in the industry. To learn more about our OCS plan, visit our "Coffee Service" page.
Machine downtime is kept at a minimum. Young's Vending technicians will keep your machines in operating order 24 hours a day, seven days a week, and 365 days a year.

To contact our sales team, please call

1-888-233-VEND(8363)

.