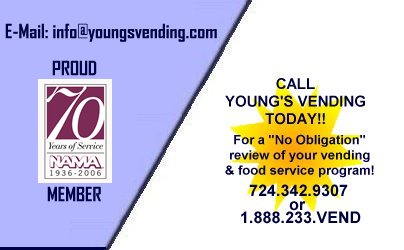 Are You Looking for that Perfect Cup of Coffee.....
Are you looking for a perfect cup of coffee? Young's Vending eliminates the need of driving to the nearest café or convenience store. Now high quality and specialty coffees can be available on your premises.

Young's Vending proudly offers the full line of O'Neill's, Folgers and Superior brand coffees along with teas, creamers, and sugar at your
fingertips. Equally important to making a fine cup of coffee is the coffee brewer. At Young's Vending, we purchase only the best coffee brewers available. As an added bonus—we take care of the routine cleaning and maintenance.

For the millions of coffee and tea drinkers in America, the daily ritual of a hot, caffeinated beverage in today's work place just got a lot easier.


To contact our sales team, please call

1-888-233-VEND(8363)

.