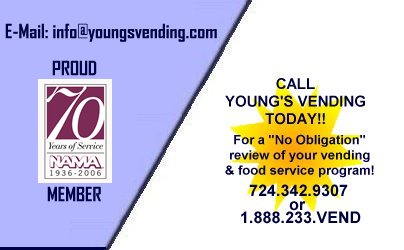 Our Mission at Young's.....
To establish YOUNG'S Vending as the premier vending purveyor in Mercer County with the best quality and service, and largest selection of products without compromising our principles as we grow.

The following principles will be used to accurately guide and measure our decisions:

Create mutually beneficial relationships with our customers and employees, treating both with dignity and respect at all times.

Establish and maintain highly satisfied customers and employees.

Continually strive for excellence in product purchases and delivery.

Consistently offer quality products at competitive prices and minimize equipment downtime.

Promote a safe environment for employees, customers and the public by maintaining safe vehicles, driving practices, equipment & facilities.
Recognize that profitability is essential to our future success. We will use sound accounting practices and comply fully with contracts and agreements.