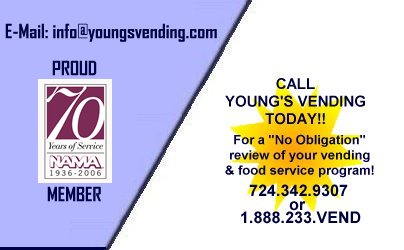 Here is what Some of Our Satisfied Customers Have to Say.....
"Falcon Transport is extremely pleased with the business relationship we have had with Young's Vending. We had used other vending companies previously and none match the professionalism and levels of satisfaction we experience with Young's."
Jeff Sprinkle, Falcon Transport Co.
"Mel Grata has done business with Young's Vending for more than 20 years. We always appreciate the manner in which your employees take care of our concerns. They are always prompt, courteous, and diligent in their duties. The vending machines are always clean and well stocked with fresh items.

Your company and employees have demonstrated their commitment to doing what it takes to 'exceed the customer's expectations'. You have certainly exceeded ours. "
Mel Grata, Mel Grata Chevrolet
"Young's Vending has been doing business with Duferco for over 11 years. They have provided superior service, unparalleled quality, and most importantly responsiveness to the needs of our facility."
Michael P. Hrycyk, Duferco Farrell Corporation
"Young's and their employees have always been responsive, courteous, and efficient in meeting our needs. They have earned our wholehearted appreciation for the consistent and quality service provided to our company. We look forward to a continued relationship for many more years."
Dawn Parry , ITV