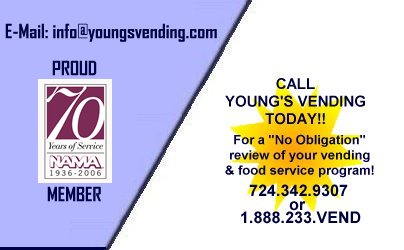 Our Comittment to Our Customers.....
Customer Satisfaction is our primary focus. At Young's Vending, every employee is part of our customer service team. When you call Young's Vending, you will find a real person answers the phone and responds quickly to every call.

Our purchasing department buys only quality products at the best prices available. As part of our extensive list of available products, Young's Vending also offers a wide variety of healthy food selections.

Our route drivers routinely visit every customer, based on their needs, to ensure machines are fully stocked with fresh products.

Machine downtime is kept at a minimum. Young's Vending technicians will keep your machines in operating order 24 hours a day, seven days a week, and 365 days a year. Our technicians keep your machines in top operating order.