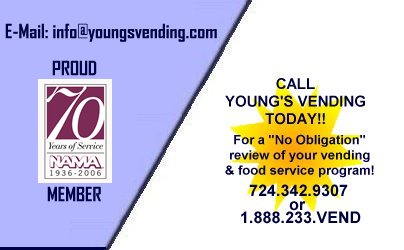 Offering a Full Line of Vending and Office Coffee Services.....

The vending machine industry has grown tremendously since the creation of ancient vending machines that dispensed postcards in 1888.

Like the history of vending machine itself, Young's Vending has seen many changes since it began in 1958. Today, Young's Vending is Mercer County's largest locally owned and operated full-service vending and office coffee & hot beverage service provider..
One thing, however, has never changed—customer satisfaction remains our primary focus. At Young's Vending, we understand the importance of convenience, quality products, and reasonable prices. But what sets us apart is our customer service – we are available 24 hours a day, 7 days a week, 365 days a year.

At Young's Vending, we take the guesswork out of the who, what, when, where and how questions by utilizing our rich history of knowledge—with the customer in mind. We work with customers to determine their vending needs. Our large inventory of vending machines and product selection makes it easy for us to develop a plan to fit all needs. Notably, our diverse options are utilized by financial, healthcare, hospitality, industrial, manufacturing, retail industries and school districts. For more information on all of our products and services click on the links throughout our website, send us an E-Mail, or give us a call at

1-888-233-VEND(8363)

!!